One Montessori material I didn't purchase as I was going to make it but haven't gotten around to it (which is why I purchased most of the materials instead of making them, because they'd never get done) is the constructive triangles.  I recently came across an amazing Etsy store called Dominna that has beautiful Montessori inspired hand-made materials .  I just drool over her items.  I am so lucky to get to review the Triangle Show. It's a great introduction activity to the constructive triangles.
The one I have is the smaller version and is made up of 18 triangles that you fit together in different patterns on a tray.  It comes with a pamphlet of different designs you can try to recreate or you can make your own design. It's hand made and amazing quality.  The pieces are so vibrant and smooth and perfectly angled.  It's a great activity for a child to learn about how shapes can fit together to make other shapes.  It develops logic and fine motor skills.  It's also a fun way to learn about patterns and leaves room for creativity too.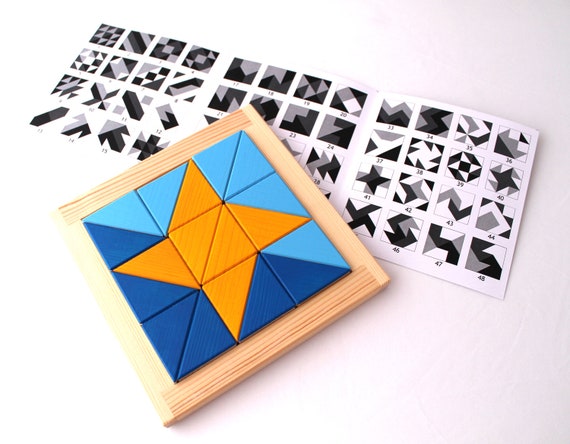 My 4 year old daycare child really liked to try to recreate the patterns on the pamphlet.   My 2 year old liked to fit the triangles together to make squares, it was like a puzzle to her.  My 6 year old daycare child liked making her own designs.  Pumpkin 1 told me over and over while playing with it, "I yike (like) it Mommy, I yike it."  Actually as I was writing this post she saw the picture and started talking about how we have it in the playroom and she wanted to play with it.  So we did.
The only negative I could find is that the pieces and the board are very smooth so they shift about easily and it was frustrating for the little ones as they would mess up their patterns.  It wasn't really a problem with older children who have better fine motor skills.  I'm thinking about lining it with a piece of felt so it won't happen, however, at the same time, I think that perhaps the very fact that a child has to work carefully and be delicate is good for improving fine motor skills so I might give it more time to decide what I'll do.  Pumpkin 1 seems to do better with it today.
Dominna has so many beautiful learning materials.  They're amazing quality and the owner is great to work with.  Shipping does take several weeks as she's located in Latvia.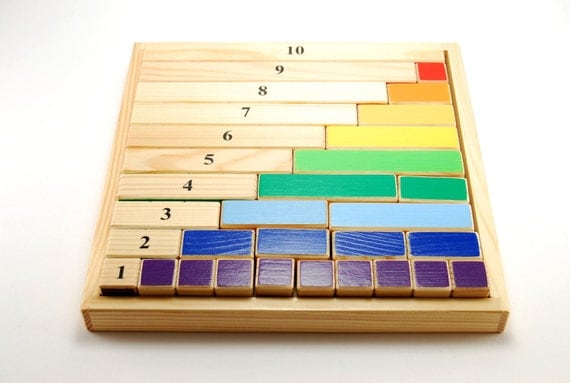 And now for the exciting part for you!  I'm offering a $15 discount to her shop to one person.  This $15 can be put towards any purchase at her Etsy store.  To enter you must like my facebook page and then comment under the post about this contest stating what you'd purchase from her shop if you won.  All the names will be put in a draw and the winner will be picked on Sunday to celebrate Purim.  You'll be notified via a facebook message.  It's open to everyone everywhere.